Harp Sellers in Wisconsin
Spruce Tree Music
(Madison, WI) - primarily carries Dusty Strings and Triplett lever harps, but they also have used instruments from other makers from time to time (no harp rentals). Spruce Tree has a long experience selling harps, and they also sell sheet music and strings.
Heid Music
(Madison, Green Bay, and Appleton, WI) - Heid has harps for rental and purchase, Lyon and Healy, Dusty Strings, etc. Instruments can be moved from one location to another, so if you are looking for a particular model, contact to see what they have at all 3 locations.
Harp Sellers near Wisconsin
Groth Music
(Bloomington, MN) - Groth music carries Dusty Strings harps (possibly others) and sheet music
MusicMakers
(Stillwater, MN) - MusicMakers makes harps, harp kits, accessories, and sheet music. Their newest creation is a 33-string hybrid carbon fiber/wood floor harp weighing 13 lbs!
Stoney End Harps
(Red Wing, MN) - Stoney End makes single, cross-, and double-string harps and also carries harp accessories and an extensive collection of sheet music. Harps are available for sale, rent, or rent-to-own.
Classifieds (Updated October 18, 2022)
Dusty String Tuning Wrench Holder
. Holds the tuning wrench securely (read more about it
here
). Asking $25.
Blevins Lap Stick and Case
Purple Heart wood with a clear finish. I was told by Blevins Harps, that it will work with any Blevins lap harp and with many other lap harps as well. Asking $35. Located in Shiocton WI (about 2 hours from Madison) If interested please contact Mary via
email
.
Tuning Wrench Holder (tuning wrench not included)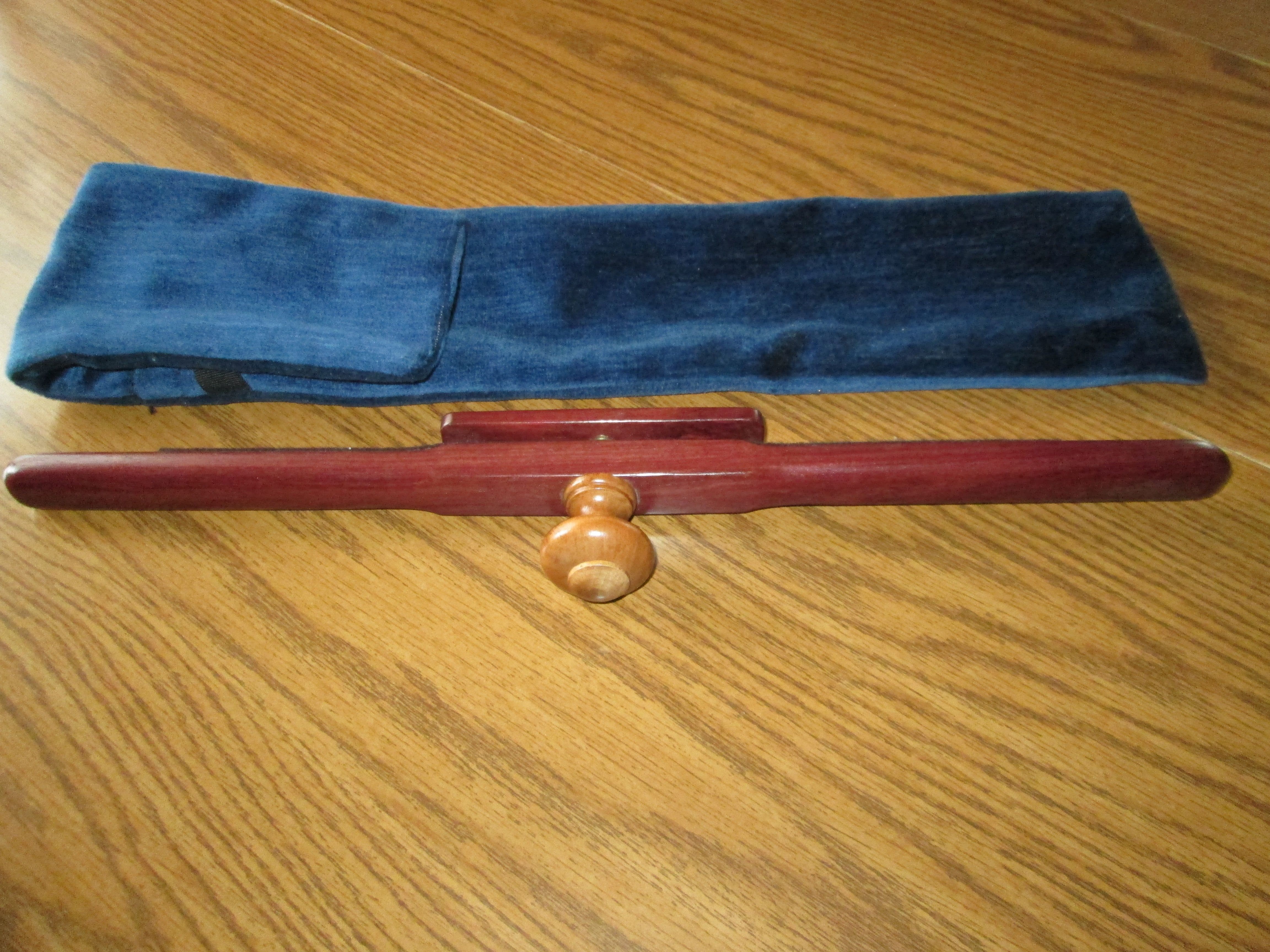 Blevins Lap Stick and Case
Accessories for Playing a Lap Harp
Harpsicle Harp Lap Stick - $20
. The Harpsicle Stick makes it more comfortable to hold your Harpsicle on your lap while playing. The Stick is solid wood and is quick and easy to install and to remove. Located in Shiocton WI (about 2 hours from Madison) If interested please contact Mary via
email
.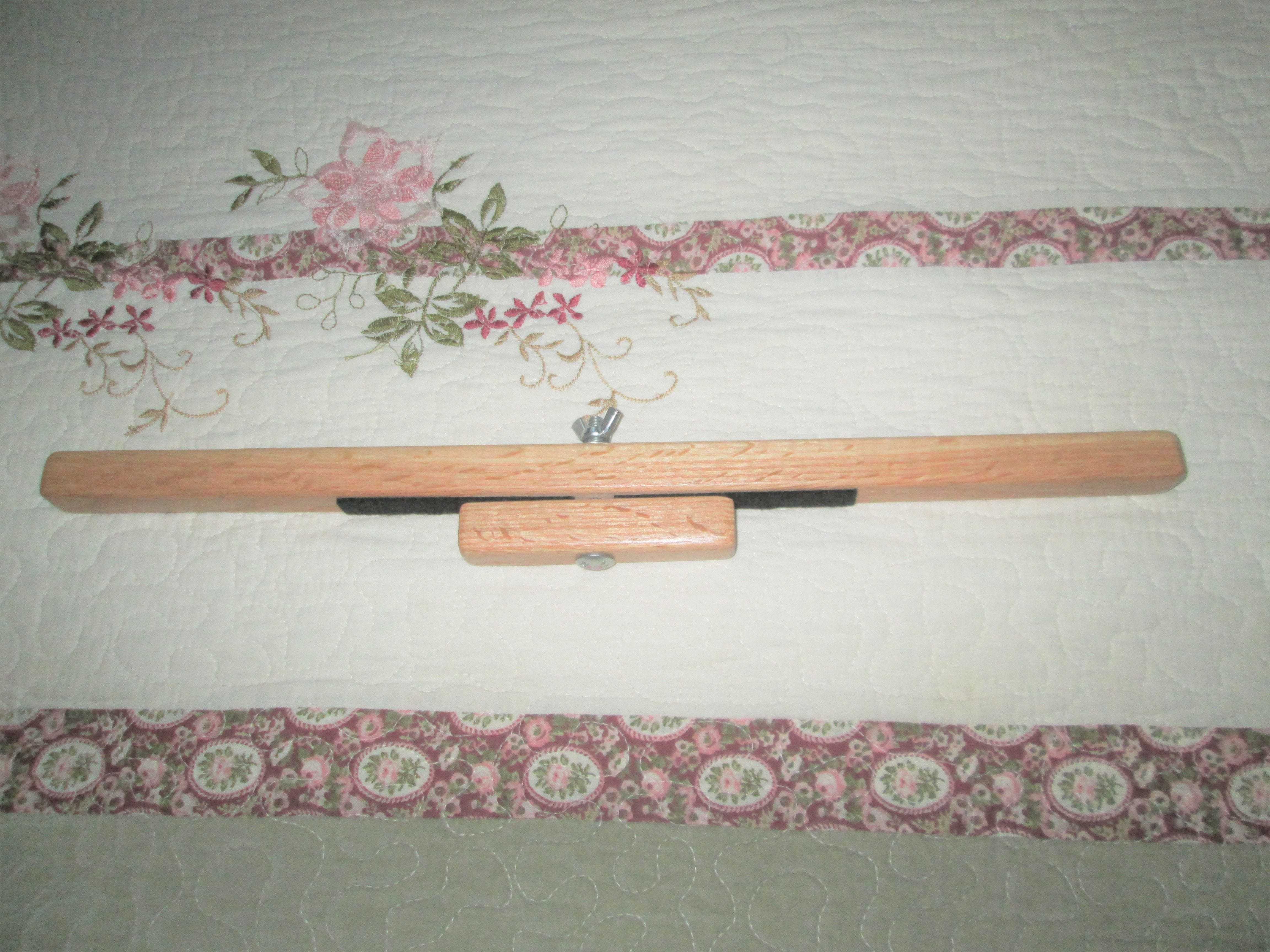 Harpsicle Harp Lap Stick (1 for sale)
Grand Harpsicle 33-String Harp
Grand Harpsicle Harp (Grandsicle) With Padded Case, Set of Spare Strings, Deluxe Strap & Roland Cube Amp!
33 string – low C to high G. Beautiful Blue
Grand Harpsicle Floor Harp
. Great for transporting (harp only weights 12 lbs). This harp has everything you need to play acoustically or if you choose, amplified. Save about $1000 off the price of new! Selling everything for $2,425.00. Located in Shiocton WI (approx. 2 hours from Madison). If interested please contact Mary via
email
.
Grand Harpsicle Harp with full Rees sharping levers
2 Lyon & Healy Troubadour lever harps for sale. one harp is natural finish & the other harp has a light walnut finish. Asking $2,000 for each harp. To see and play the harps in person, please contact Gerry in Waukesha, WI by
email
to make an appointment. Pictures are representative (contact the seller for pictures of the actual harps for sale)
Example image of a L&H Troubadour harp
Various harps for sale in Stevens Point, WI
Melanie Wiltse has 30-36 string harps for sale that she built from MusicMaker plans plus a Lyon & Healy Ogden. Call or text (715) 570-1157 or
email
for details. Located in Stevens Point, WI.
Various harps from MusicMaker plans and, on the right, a Lyon & Healy Ogden
Braunwen 4-Octave Stoney End Harp (29-string, G to G)
* Cherry wood with amber stain
* Beautiful harp has a full set of Truitt levers
* Full set of extra strings
* Higher tension on the strings offers a wide dynamic range and metal-wound bass strings give a satisfying rich bass.
* Comes with a removeable six-inch base.
* Dimensions: H-43" x W-13" x D-25".
* Purchased new in 2014, has been lovingly cared for and is in excellent condition.
* Weighs approximately 19.5 pounds.
* Included: custom-made padded case ($350)
* Included: Schaeffer pick-up mic ($200).
* Located in north-central Wisconsin; would prefer pick up and am willing to meet you within a 75 mile radius.
* Wonderful harp for beginners and those who prefer a smaller harp.
* New today, this harp and everything included would cost $3350;
asking price $2800.
If interested, please call Mary at 715-302-8214 or
email
.
Braunwen with base and Truitt levers
Braunwen with case (cat not included)
Other Places to Search for Used Harps
eBay
and
Craigslist
- please work with a harp expert if you are not experienced with harps. There are vendors from Pakistan and other places that sell pretty carved Deura/rosewood harps that are poorly made and may have levers that don't work. If it looks too good to be true, it probably is! These are some of the harp stores that sell used harps and may be able to ship to you.
Atlanta Harp Center
The Harp Connection
Virginia Harp Center
Dusty Strings
- this link takes you to both their new and used instruments (the used ones are marked accordingly)
The Enchanted Harp
Kolacny Music
Harp groups/clubs/societies may also have classified pages, but you would need to work with the individual seller to see if shipping is feasible. Here are a few examples:
Reigning Harps
(pacific northwest)
Washington Area Folk Harp Society
The
HarpColumn
site also has online classified ads for pedal and lever harps.